Note that the background is simple and the colors are vibrant. If you have green foliage around their face, somehow it will trap the green to cause green to be added to the hair and ground next to them. Send me the best possible picture to [email protected]. Each picture takes over 2 hours to embroider so we want to use your best candidate. This is a special $40.00 off the regular 100.00 prices, so take advantage of it. Send me your favorite colors for the bag and I will try to infuse it.
Take a picture! simple back ground, vibrant colors!

I put it into my machine and…

Magic happens!

Side view of the bag
Grandma Brag Bag #2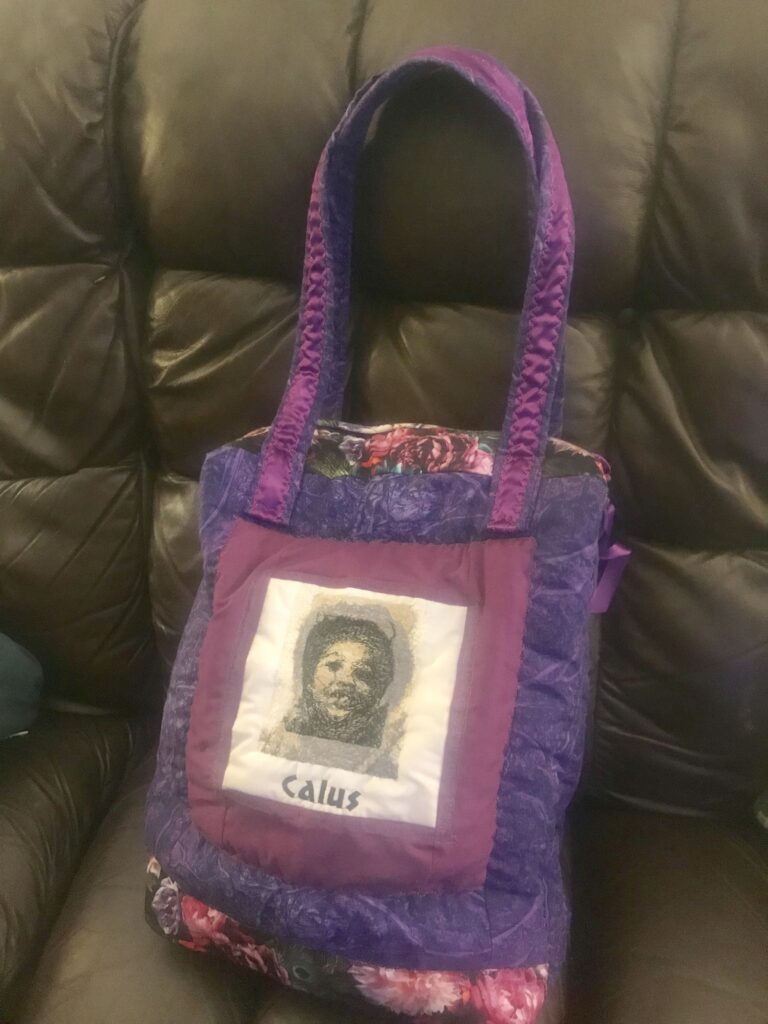 Another type of Grandma Bag is a little smaller – What is your name as a Grandmother?
Nana? Mama? G'ma? Chinky? Here is how one Grandmother designed her bag with me. In Trinidad, they call her Chinky Ma… This bag is about 9 x 12 by 5″ wide. It is fully padded and lined, has 2 zipper pockets, padded handles, and room for 2 pictures or texts plus up to 8 children on each side. Each picture takes almost 2 hours to replicate in thread. Over 4 children, add 10.00 per child.
In Trinidad this Grandma is known as Chinky Ma
NOTE: The bag at the top of the page is 15 x 18 x 6 and is shown with 2 little girls and a heart on the other side. This can be changed to 2 rows of 3 children on either side – call or write to me at [email protected] for a price.