What are you interested in? Masks? Tote Bags? Jewelry? Clothes for sphynx cats?
Sign up to receive a free tote bag -If you win, you will be notified by email but if you don't enter your address we won't be able to send it.
FREE GIVEAWAY – EVERY MONTH A NAME WILL BE CHOSEN! Tell us what you would choose from our site!
All non embroidered masks without vents are only 10.00 plus tax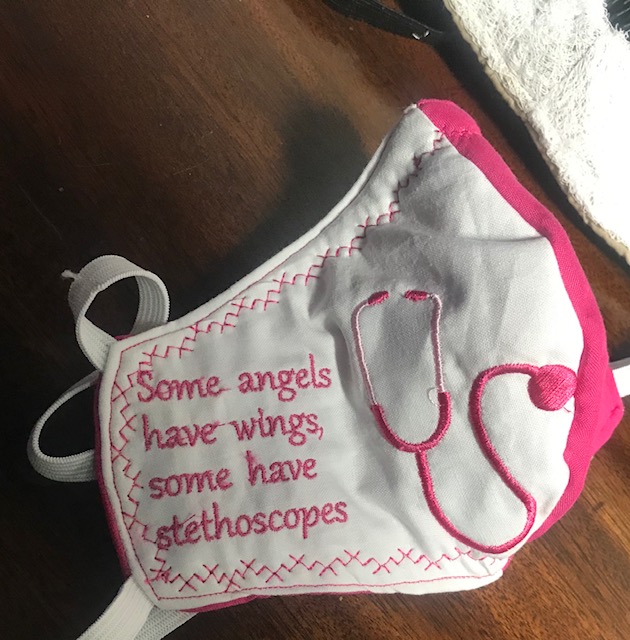 All embroidered masks (name, logo, ,pes design are 15.00. plus tax
If you would like a vent to filter your carbon dioxide when you exhale and keeps your glasses from fogging, that is an option of 3.00.
Featuring today – Let's make it easy! If you are in Scottsdale or neighboring town and need a mask – just call me -we will work out the fees 480 262 3525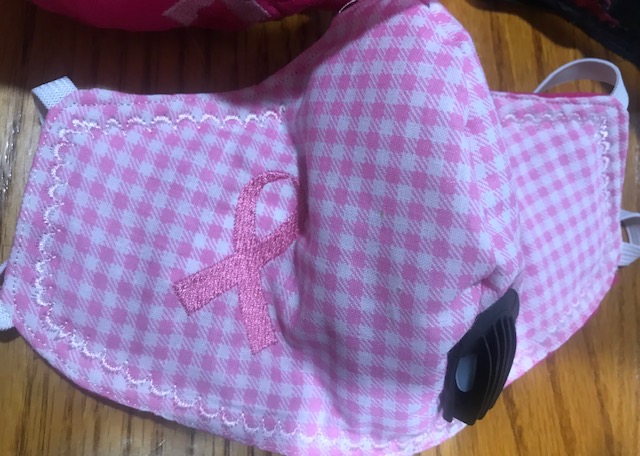 Usually, our masks are 15.00 and have a vent. Since the CDC does not value the vents at this time, we are reverting the cost to $10.00 each without a vent.
If you would like a Vent, we will add one for 3.00. Just let us know.
We understand that some of you don't have a Venmo account or know how to use one – that's ok – the important thing is that you feel comfortable and have a mask that at least goes with some of your outfits to make that comfort level rise. We can do it all! Everyone is wearing our masks!
First – What kind of face mask do you want? You can click on any link and you can order from that page….
Mask Choices
Animal Prints, Avengers, Bears, Breast Cancer Masks, Cats, Dragons Eagles, Essential Health Care Worker, Dental Assistant, Health Care Receptionists, Fantasy Masks, Floral Masks , Gardener, geometrical designs, Glamorous Mermaid, Halloween Masks, Hello Kitty , Kitties, Kid's Prints, IT, the clown from Steven Spielberg's movie. Mailman, Novelty humorous, Nurses, Patriotic, Solid Colors, Super Heroes, Wolves Wonder Woman, Unicorn
*(Receptionists who do not need to change masks with each patient).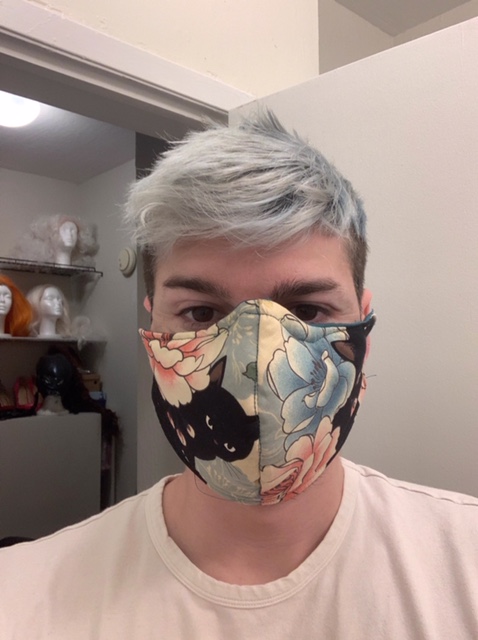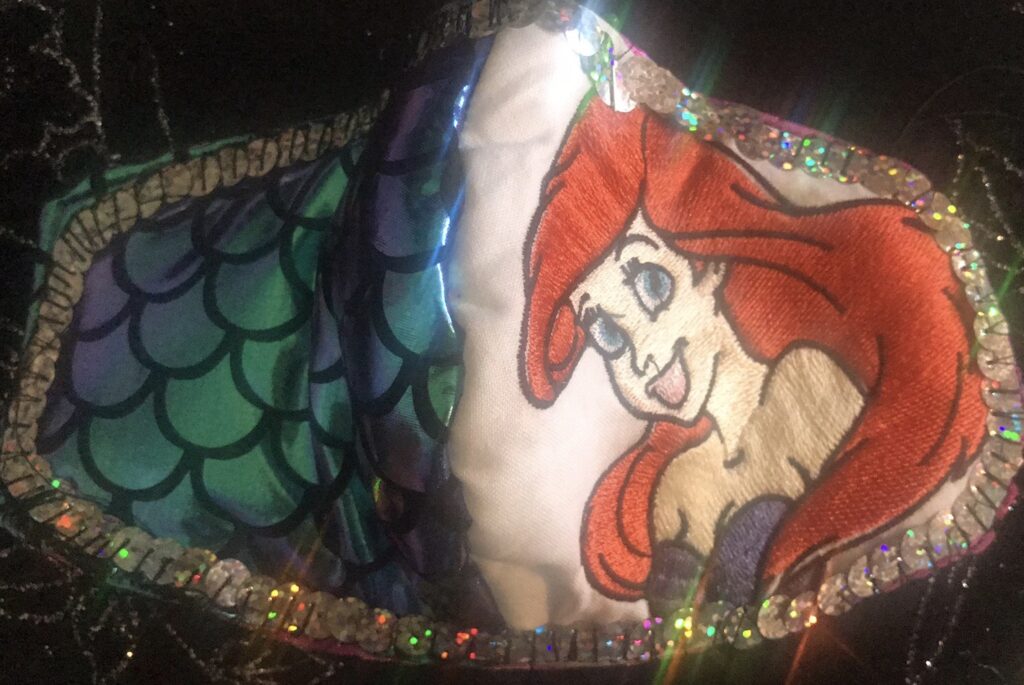 Another great mask Featuring today – The Dragon Mask – This will be a collector's item one day. People will want to know about the people who put their lives on the line for us. This could be a great way to show your health care professionals that they are appreciated because they are fighting, toe to toe, an invisible dragon who reeks havoc on the world daily, named COVID19. Your Nurses and Doctors are Dragon Slayers – ! To you out there who dedicate your lives to helping others, we support you! Design yours today!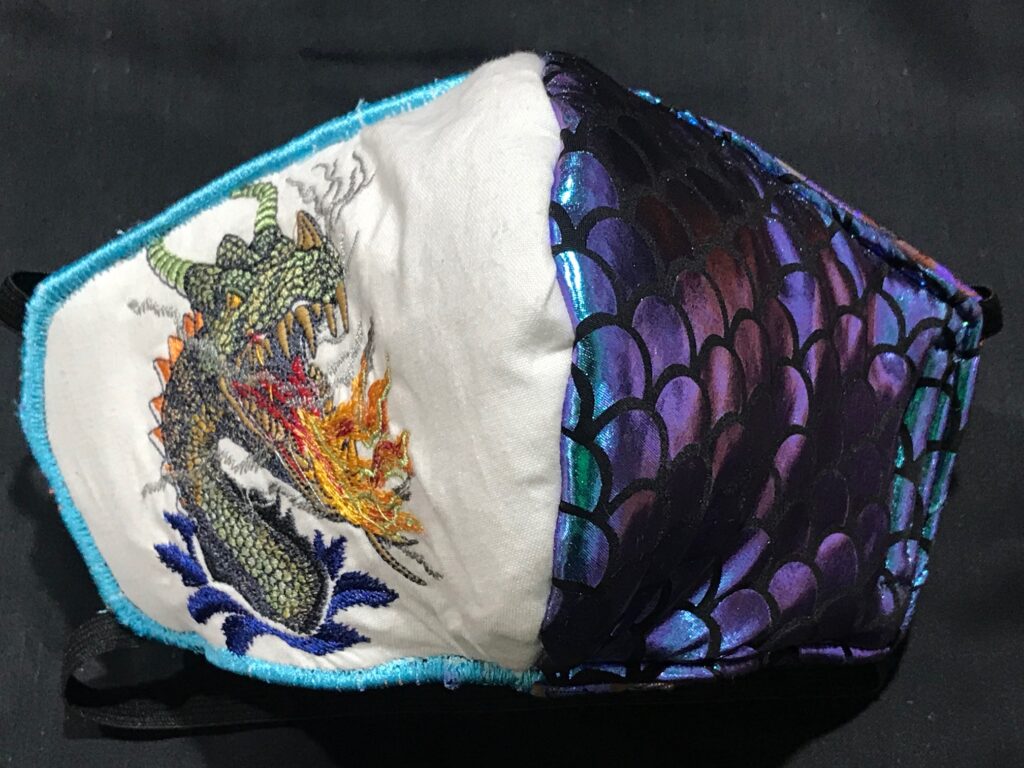 Here is the newest Mermaid mask – the Mermaid2 Mask – Made of a ultra-tight weave lycra spandex and nylon, it still breathes beautifully with the layers of batting inside. It also has 2 supporting 3/8″ bands along with a stainless steel nose pin to help it stay more on your nose and transfer the pressure from back and neck to a more balanced feeling.

Want to mail or email your order form?  click here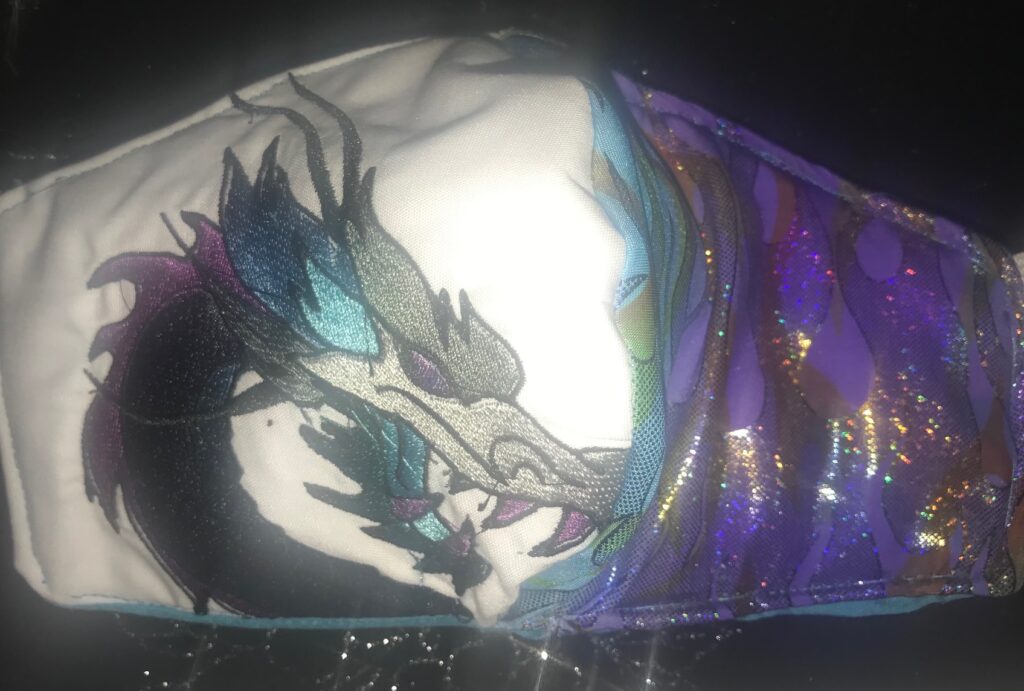 DESIGNER FACE MASKS as protection from this EVIL VIRUS…
click here for more info: DESIGNER VIRUS MASKS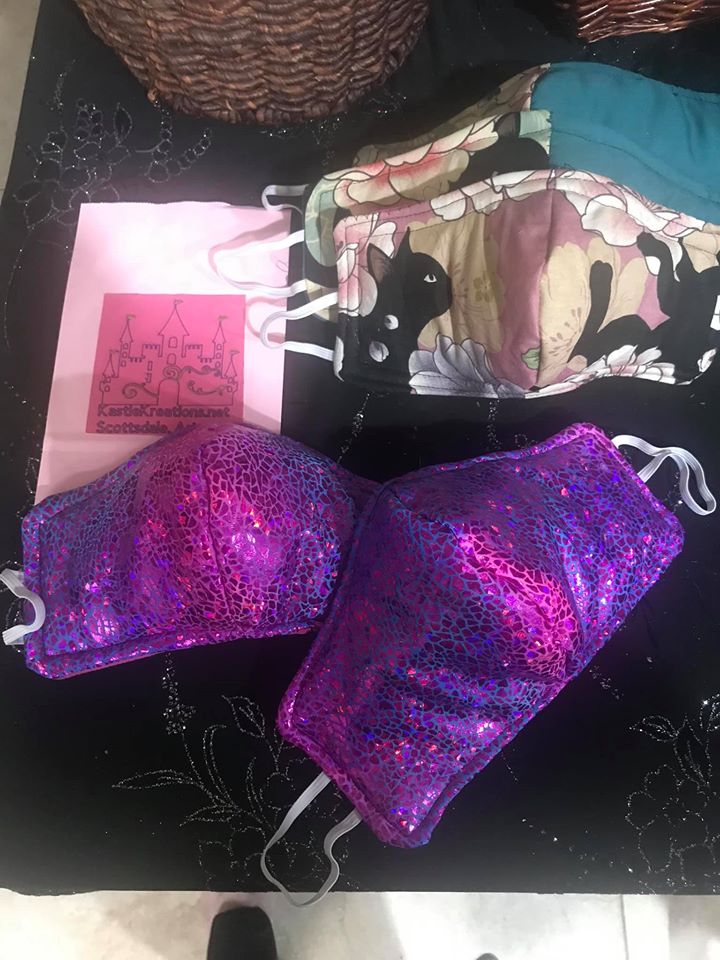 Cover that naked wrist! We sell a beautiful European big hole bracelet made of silver plate charms, Murano glass beads with sparkling Swarovski faceted crystals. We have them in every color. It's "cover" version of a very trendy 1500.00 sterling silver original – not intended to compete with that product.Learn More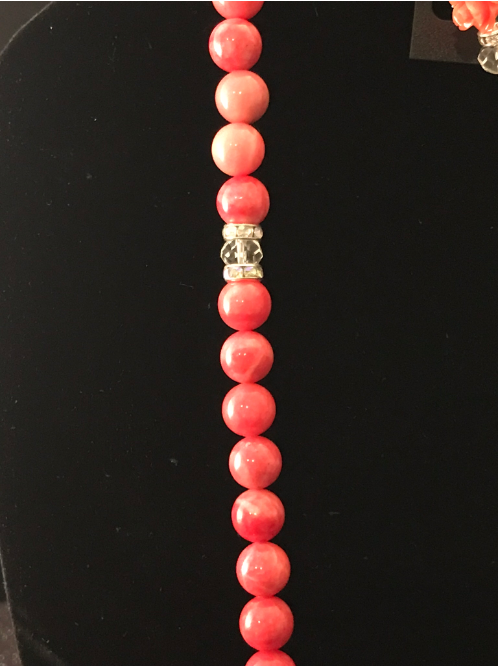 Gemstone Necklaces around 28″ on Silicone stretch cord. A delicate mix of Swarovski Crystals and European glass beads from Murano, Italy. We use 6mm and 8mm Swarovski Crystals with Swarovski crystal spacer beads, combined with Gemstones of Turquoise, (in many different colors from Afghanistan, Turkey, Arizona and Mexico), Jasper, Amethyst, Obsidian, Tiger's eye, Jade, Pink Jade, Coral, Pink Coral and Red Coral, all mixed with Crystals. Check out the different colors!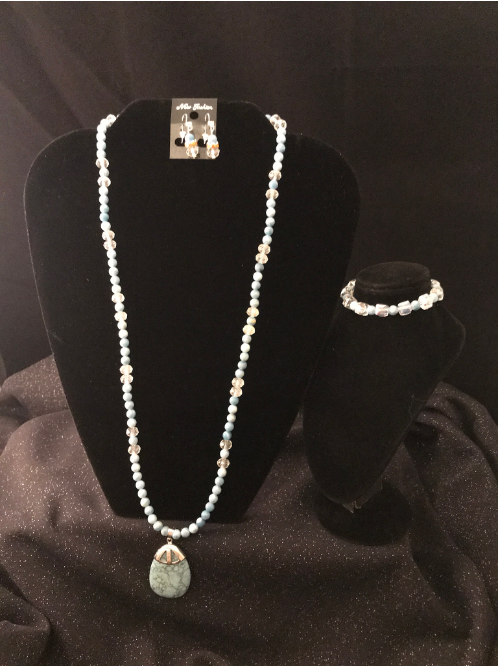 Gemstones of Turquoise, Jasper, Amethyst, Obsidian, Tigers Eye, Jade, Pink Jade, Coral, Pink Coral, Red Coral all mixed with Swarovski Crystals and Murano Glass Beads to create elegant costume jewelry on a different level!Learn More
Family History Jewelry – Tree of Life Concepts in crystal and gemstones.
Every girl deserves to feel like a Princess!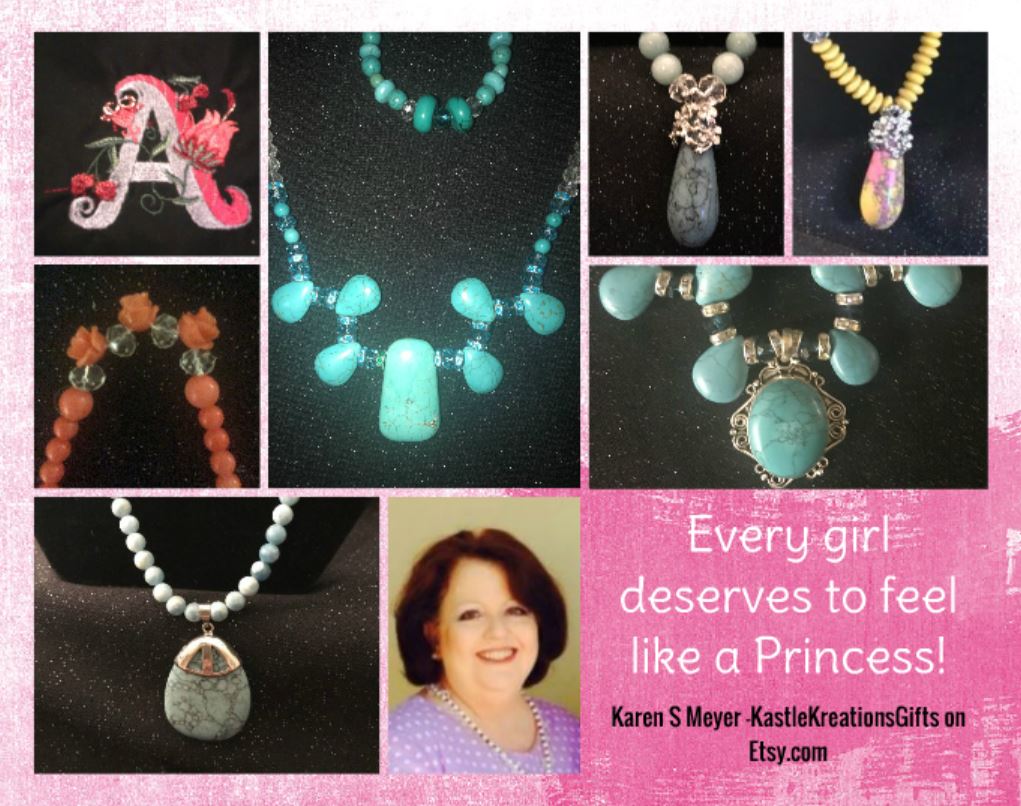 I love to dress up! There is something about a well put together outfit that makes you feel amazing. That is why I came up with the vision of sets – consisting of a 28″ necklace, matching bracelet and matching earrings.
Looking forward to our first big show in December at our Holiday Boutique on December 8, 2018 – Someone's going to feel pretty elegant wearing KTell me your favorite stone and I'll create a jewelry set just for you! Order your bag here!
Bags, Bags, Bags!
We create all sorts of
Bingo Tote bags, 12 x 12 x 6 round
Music Themed Bags $80.00
Music Themed Bag 2 $80.00
Fantasy and Renaissance, $80.00
make up bags $25.00
medium bags 12 x 9 x 5 $50.00
Religious Bags $80.00
Tribute Bags to Loved ones $80.00
and temple name bags. $15.00
Wallets – 10.00 Design it with me – let's be creative!
tote bags – Hello Kitty!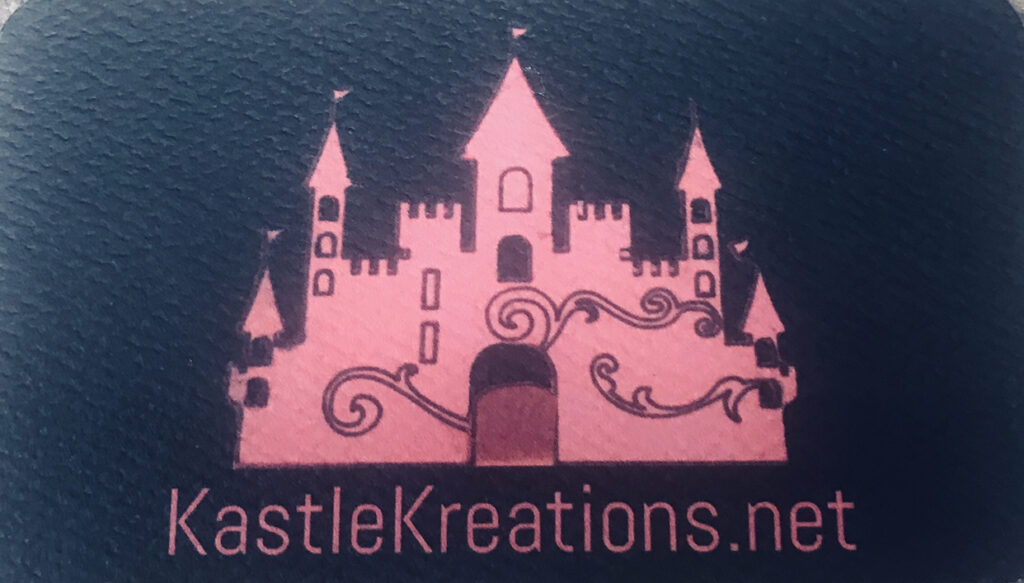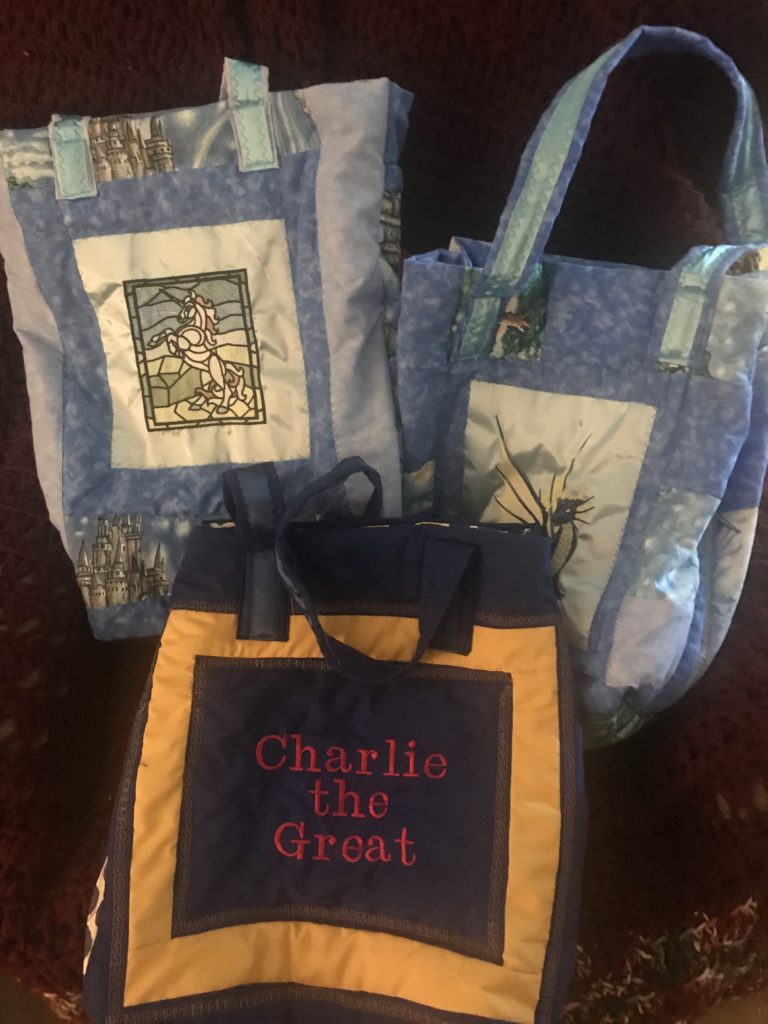 Click on a type of tote you want to see!
Bingo Bag! family history tote bags 1) Family History Tribute Bag
renaisassance bags Temple name bags (white or the color you wish)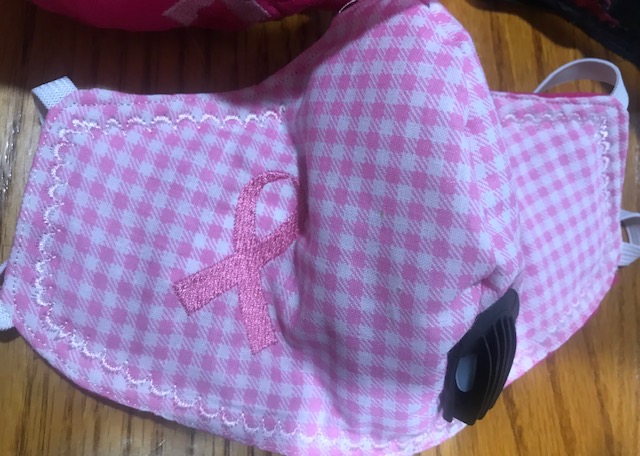 What are you interested in? Masks? Tote Bags? Jewelry? Clothes for Spynx cats?