Already know which kind you want? Let's go!
Let's go! AVENGERS,
BREAST CANCER,
HALLOWEENHEALTH CARE PROVIDER AND CARE GIVER MASKS,
HELLO KITTY AND NEKO KITTY COLLECTION,
LOS ANGELES LAKERS FANS,
MERMAIDS COLLECTION
MOM, MOTHER, CRAZY FROM COVID COOPED UP WITH THE KIDS MASKS
STARBUCKS,
To find a mask that will protect you 100% from the Covid 19 virus, well, nothing is 100% but , go to CDC.gov as these N95 masks, if you are a nurse or a doctor, they are vital, should be reserved for our Health Care Professionals.
Why Do We Need a Mask?
Our masks are approved by the CDC in an emergency when more conventional professional masks are unavailable. We use 4-5 layers, including silk, felt, batting, which have been found to enhance the electrostatic barrier deterring the virus'. The CDC last week issued a statement that it would be well advised to wear a face mask to stop droplets from passing through the atmosphere and gaining entrance to our bodies through mucous membranes, like: eyes, ears, mouth, etc., Our masks are excellent for reminding you that you should not touch your face!
We have an article you can read as to why our masks are better than the flat surgical masks. Email me and I'll get it over to you. [email protected]
The best defense against Covid 19 is –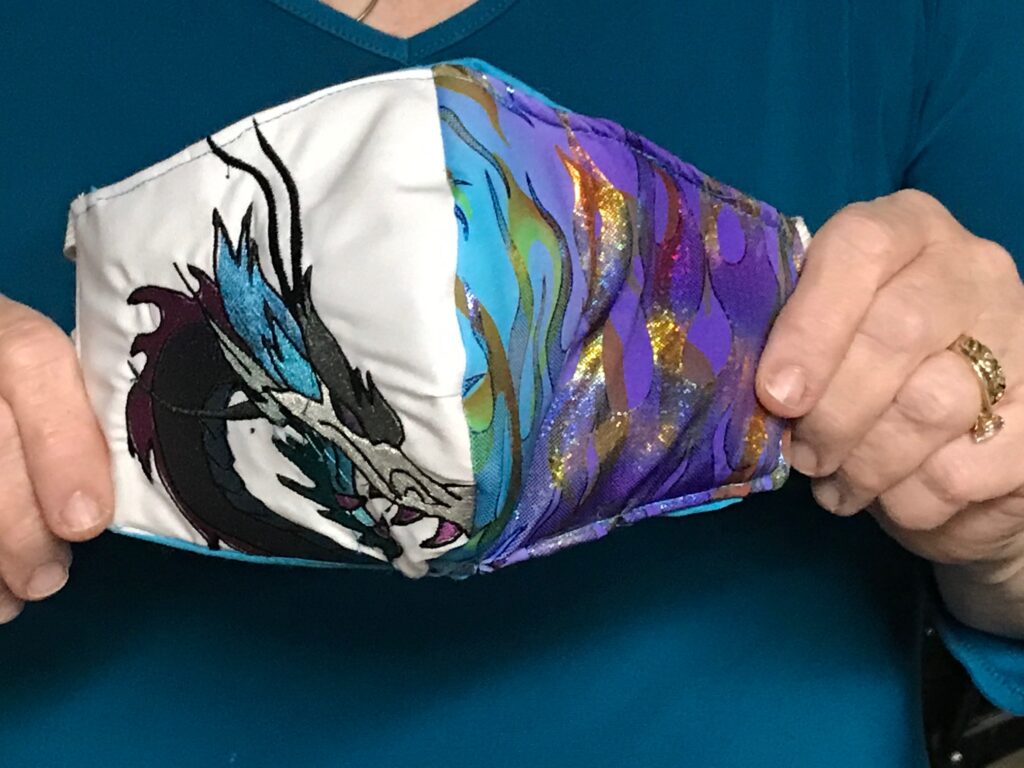 Fight the Dragon COVID with our Doctors and Nurses – you design your Evil Dragon Covid mask in honor of the HCPs battle for YOUR life!
Our Health Care Professionals are fighting a real dragon toe-to-toe BATTLE FOR YOUR LIFE! – that is why THE N95 masks SHOULD BE RESERVED for them. As an homage to our Nurses and Doctors, you can put the Dragon COVID on your mask and tell all of them that you support them! Choose the colors and dragon you want on your mask. Let us know if you want a plain color or the holographic Dragon flames, (right?)
TO ORDER AN EMBROIDERED, OR DRAGON WARS CLOTH VIRUS MASK, CLICK RIGHT HERE
If you want to pick EMBROIDERED Dragon for 25.00, then choose OPTIONS DRAGON 1, 2, 3, OR 4 THEN give me the details like which dragon you liked and what colors you want me to use.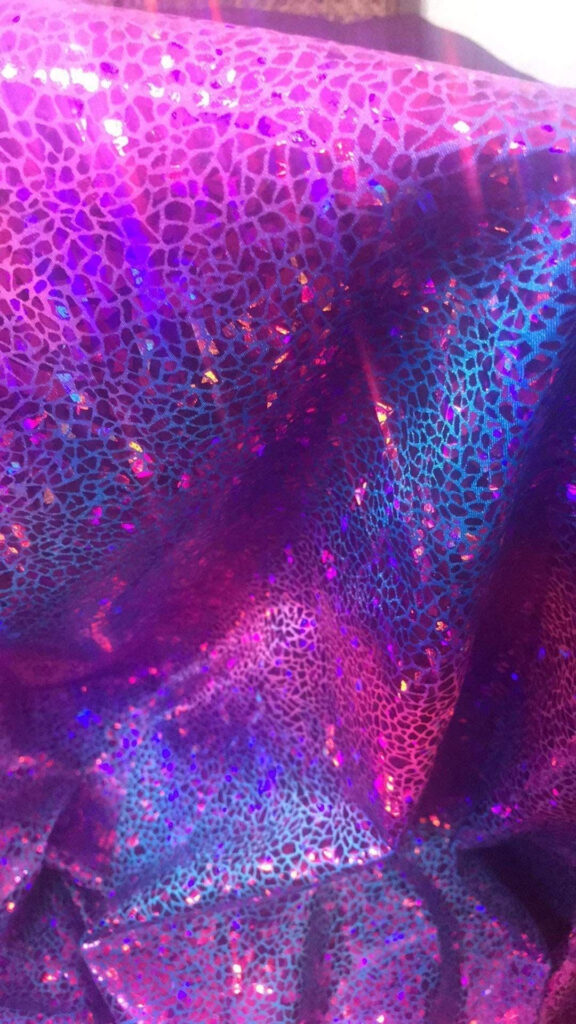 Click here to order Floral fabric masks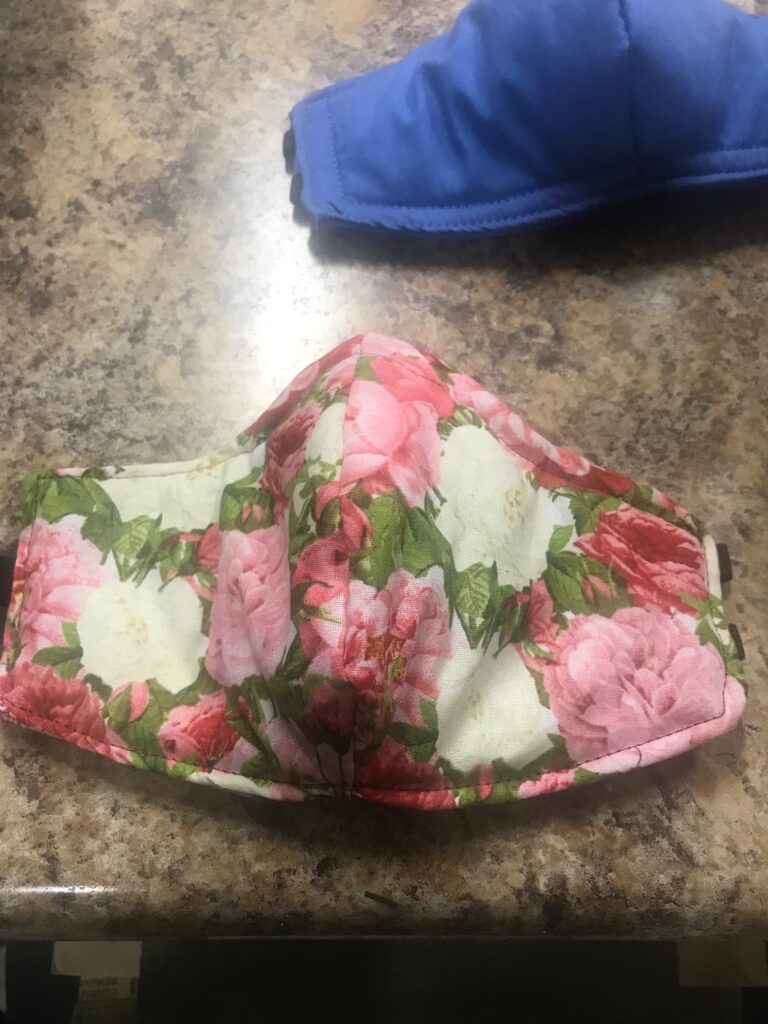 Here's some fabric choices. I'll be working tonight on orders from the night before with the goal of getting them out the door within 48 hours.
Y
COLOR CHOICES – When making your choices – if you don't see what you see above it's because I have too many choices! Just complete your order with any style then email me and I'll fix it! [email protected]
Click here to order Solid Colors
Ok – all you non-floral, non- fantasy, no-nonsense kind of people…here are plain, solid colors. I love Solid colors, so I'm just joshing you a little!

All masks will now have a filter. (effective 5/1/20) This photographed a little darker than the actual color for some reason. It is really the medium blue scrubs color that you always see in hospitals.
PAYPAL IS working very well – there may be a little tax you owe at the end because they are having a little problem adding that. the cost for 1 is 10 plus .082 tax and 8.30 shipping, UNLESS NOTED. SOME ARE SLIGHTLY MORE EXPENSIVE 15.00 FOR MERMAID AND DRAGON. I can fit 5 into one small Priority box. so you can choose 1-5 and tell me what "flavor" of fabric in the form below and the cost would be:
When you get the box please take them out and let them fluff up or toss them into the dryer on air fluff – it's going to be a hard journey for them.
LOCAL SHIPPING Go right to Venmo, pay for the total of masks, tax types. You do not pay the 8.30 if you live in Scottsdale. IMPORTANT – I NEED THE FORM FILLED OUT BELOW TO GO WITH YOUR VENMO NON SHIPPING ORDER.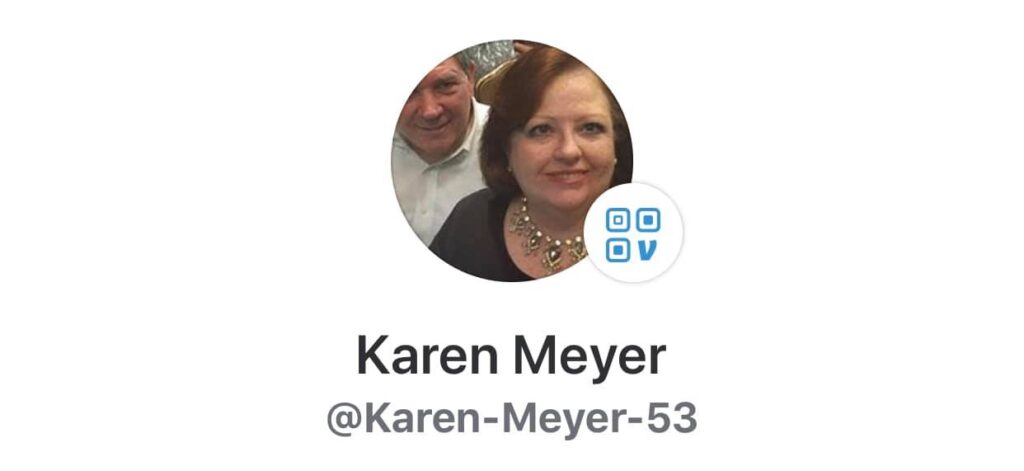 They cost me about 7.50 to make so you can see I'm not profiteering from unfortunate times.
MOST are washer and dryer approved (see below for care instructions) However, they will not 100% prevent you from getting the virus. You will look awesome though!!!
You can see how to prevent infection from Ccovid 19 here. CDC.gov
NOTES FROM KAREN ABOUT THE MASKS AND CARING FOR THEM!
PLEASE CLICK HERE TO LEARN MORE ABOUT OUR POLICIES AND MASKS
https://kastlekreations.net/about-our-face-mask/
I've been having fun making designer masks. The are padded and lined with almost 1/2″ inch of batting. 1/4″ front/1/4″ facing back. They are light and comfortable but have a wire nose bridge so you can adjust them. There was elastic to stretch to the ears but I replaced it because I knew if it was uncomfortable for me, it would be for you too! It is fitted so it hugs your face. See how it pouches out? It has a little cove for your nose to fit right in there. I defy any virus to fight its way through all those layers. I think my next versions will have a pocket to add a charcoal filter. Stay tuned!
ELASTIC VERSUS BIAS TAPE. In the pictures, I show ear-elastic. What a nightmare – they were uncomfortable! I'm going to replace the elastic on the ears – they just didn't work well – instead, I have put two elastic straps around the back and you can tie a knot in the elastic to make it snugger around your cheeks and doesn't ride up from your chin.
SIZING – The average measurement from the bridge of the nose to chin is about 6.5-7.0 and 23″ circumference for adults. For children, tie a knot in the elastic (room to grow) and fold the bridge down 1 inch so you can still mold it to the bridge with the hidden wire in the nose area. You can see it hugs my nose and covers my chin. One of the problems with this virus is you aren't supposed to touch your face. I do that all the time –
WASH AND WEAR – All of the masks can be washed and dried in a dryer with the exception of the mermaid and Dragon – they are special! You can wash it, but let it air dry. HOW TO DISINFECT DELICATE CLOTHING WITHOUT BLEACH: You can spray any of them with Lysol disinfectant. You can also put 1/4 cup of rubbing alcohol in the rinse water. HERE IS A GREAT WEBSITE:
Let's go! FLORAL MASKS, FANTASY MASKS, DRAGON MASKS, SOLID COLORS, NOVELTY/KIDS PRINTS, HELLO KITTY AND NEKO KITTY COLLECTION,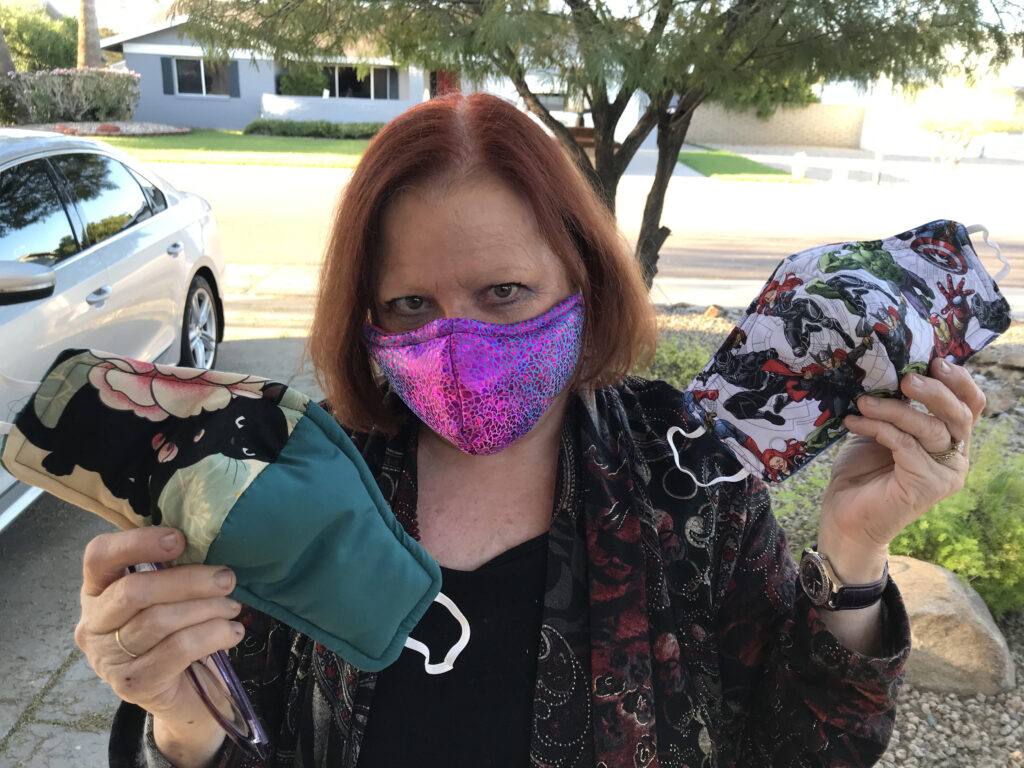 Already know what kind of Mask you want?